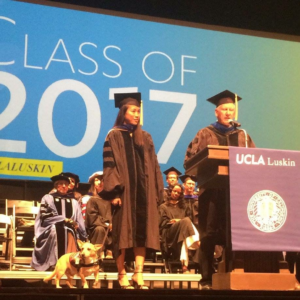 On June 16, 2017, Malcolm dog and I walked in the UCLA Luskin School of Public Affairs graduation ceremony at Royce Hall to mark my completion of a PhD in Social Welfare. My dissertation was entitled, Occupied with Cancer: Trajectories of Employment/Education and Psychological Distress among Socioculturally Diverse Adolescent and Young Adult Cancer Patients.
When I began doctoral studies at UCLA, I did not think that I would finish. My last cancer prognosis gave me an 80% chance of 2-3 years before the lymphoma would return. It wasn't a secret. All my people back in the SF Bay Area knew. But when I relocated to Los Angeles, I kept this prognosis from my colleagues until more recently. They didn't need to know. Back then, I was content with the idea that being a doctoral student would be my final gig. So, lucky me. Even though the most important degree in my professional career will forever be my humbling GED, living long enough and healthy enough to earn a PhD is pretty dope too.
I got so many mahalos and so much aloha for my impressive squad of mentors, friends, relatives, and clinicians (y'all know who you are). Cos let's be honest, there've been folks who tried to get in my way across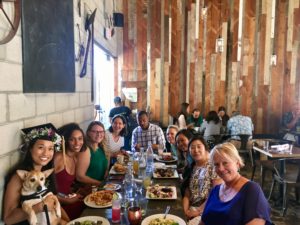 these years. But my good people have been such an important part of supporting me through the vicissitudes of life before, during, and after cancer hit 2x. I could not have done this without their love, compassion, big laughs, practical help, and tolerance.
In August, I will begin my new role as a tenure-track assistant professor at the University of Hawai'i – Myron B. Thompson School of Social Work.
I can not tell you how happy I am right now. It would be ridiculous to try.