Young Black women get cancer too! I'm honored to ink this laugh-cry-laugh-cry story of Chellese Parker and Iman Perry to tell you how it is…
The fact that their table was the only one with a grip of young POC cancer patients at CancerCON, made me ask to join them – for all the same reasons why Black kids in elementary school sit together in the cafeteria. Being a brown-skinned Asian woman, I appreciated the melanin.
After seeing that the situation was so white at the largest national conference for young adults with cancer, Chellese Parker and Iman Perry took to socials with the conference hashtag and started liking pics posted by POCs at the conference, who subsequently liked them back, and later linked up with them at the meet and greet.
"We did that on purpose," said Chellese. "Being Black girls is a big part of who we are. Pride in our culture, relishing that, and Black girl magic is abundant in our circle of friends."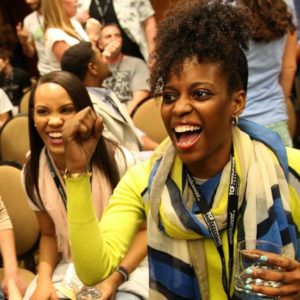 Admittedly, most of us had no idea that the world of young adult cancer advocacy (a.k.a. AYA cancer) would be so white until we arrived. "I know that Black people get cancer, and that cancer doesn't discriminate. So, I didn't think that POCs would be so scarce," said Chellese. "People of color need each other in a way that I don't know if white people need? And maybe they don't need each other, because they already have each other. So, it's not on their radar."
We bounced around our names, diagnoses, stories about being young racially minoritized cancer patients, and how we got ourselves there – to CancerCON – where most patients of color were not. We held it down.
"I have a problem with the word survivor," Iman said, when we started talking about all the cancer survivor, thriver, fighter, etc. labels that put a militant or way positive spin on being a cancer patient. Iman explained that she wasn't a survivor, that she's still struggling, and that it's not because she's doing anything wrong. Also, patients who get to claim remission aren't doing anything right either. Ain't that the truth.